Social Media Marketing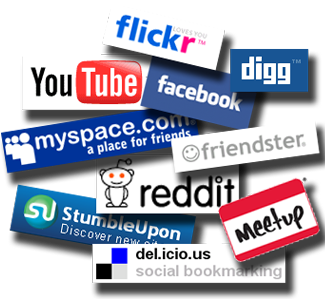 Social media has become a platform that is easily accessible to anyone with internet access. Increased communication for organizations fosters brand awareness and often, improved customer service. Additionally, social media serves as a relatively inexpensive platform for organizations to implement marketing campaigns.
There is four-legged monster in the networking world, and it's made up of Facebook, Twitter, Google+ and LinkedIn. These are the most well-known social media sites, and any social media marketing company will include strategies for each of them. In addition to these, numerous other sites can build your business through social networking, including: Digg, Blogger, YouTube, Reddit, Stumbleupon etc.

Why opt for Social Media Marketing Services?

Simply, because it is the best marketing device today. Not only it is cost effective, Social Media Marketing is far reaching and the most important platform to get your brand noticed worldwide. From campaigns to your new product launch, social media is the only platform today that gives you an edge over your competitors while marketing your brand. Here are certain important features of social media marketing:
• Get your brand noticed to the global travel industry
• Keep a check on what your competitors are planning
• Cost effective
• Increase customer loyalty and trust
• Get proper feedbacks

Five Reasons Why Social Media is here to Stay

In the last decade social networks have sprung up across the internet attracting users and businesses alike. Their growth has been exponential with over a billion people now owning at least one account. However, all good things come to end so is now the time for the start of their decline?

Below are five reasons why I think social networks are here to stay.

1. Their user base keeps growing

Facebook, Google+ and Twitter are all still seeing growth in the size of their user base especially in developing nations in Asia and Africa. As long as this continues to be the case Social Media is going nowhere because users are what provides these companies with revenue

2. As long as they keep growing businesses will continue to pay for advertising etc

One of the main ways that Social Networks get revenue is through businesses and organisations paying for advertising and sponsorship. They will continue to fork out huge sums of money as long as people are still using the networks as much as they care currently.

3. They're a convenient and fun way to keep in touch with friends and family

Although a letter in the post still has a nostalgic value in the modern world, our society is heavily leaning towards virtually instant forms of communication like mobile phones and the internet. Social networks have taken advantage of people's desire to communicate and given it an entertaining edge; they keep adding more and more features which are improving or building on their original purpose.

4. Still seen as trendy and cool

Everyone has Facebook, in fact it is now common parlance to declare that you are going to 'Facebook' someone, if you're under a certain age and don't have Facebook you're seen as out of touch.

5. Instant updates on things going on around the world

This is the age of information saturation and instant news. A news story happening thousands of miles away can appear on your screen in a matter of seconds. This effect is multiplied by social media you can find out instant up to date news just by browsing your Facebook or twitter feed. People don't want to be out of the loop so expect people to continue using social media even if it is just to keep up with what's going on in the world.